YAMBA TO PACFAIR BROADBEACH- ONE WAY FARE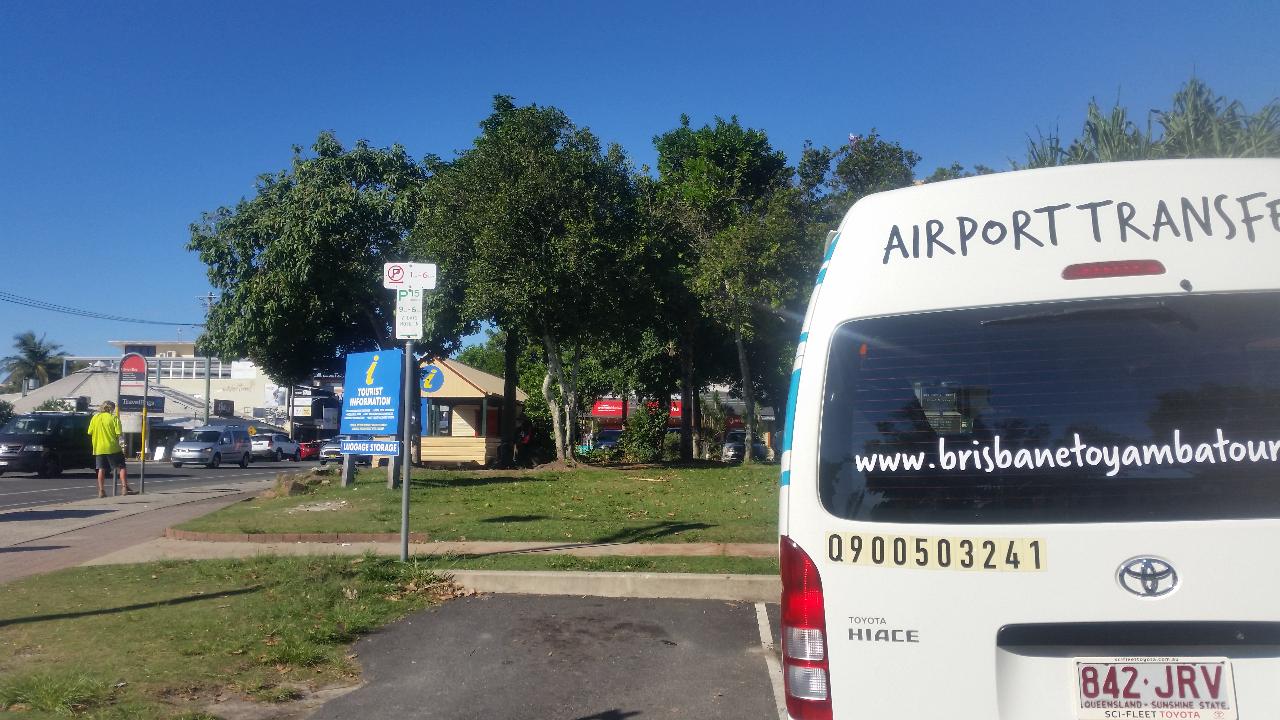 Durata: 2 Ore (aprox.)
Locatie: Yamba, NSW
Cod produs: P9GV2Y
DEPARTS YAMBA CENTRAL AT 06:15 AM( NSW TIME) TO ARRIVE PACIFIC FAIR SHOPPING CENTRE AT 08:15 AM (QLD TIME).
RUNS EXPRESS EVERY DAY NON STOP!

YAMBA TO PACIFIC FAIR SHOPPING CENTRE BROADBEACH
RUNS EXPRESS EVERY DAY NON STOP!
SUMMER TIMETABLE: VALID UNTIL 04 APRIL 2021
WE PICK UP FROM YAMBA CENTRAL HOTEL AT 06:15 AM- IN OUR 9 SEATER TOYOTA MINIBUS.

PLEASE ARRIVE 10 MINUTES PRIOR.
THE MINIBUS WILL DROP OFF PASSENGERS IN THE DESIGNATED AREA AT THE PACIFIC FAIR SHOPPING CENTRE
TERMS AND CONDITIONS:

PLEASE NOTE ALL BOOKINGS REQUIRE A MINIMUM OF 24 HOURS NOTICE!
SERVICE OPERATES ALL YEAR (EXCEPT CHRISTMAS DAY AND 01 JANUARY)
SERVICE OPERATES EVERY DAY
WE OPERATE USING A TOYOTA COMMUTER BUS WITH MAXIMUM OCCUPANCY OF 9 SEATS.
WE ALSO CATER TO GROUPS, FAMILIES, SPECIAL EVENTS AND WEDDINGS; PLEASE SEND US AN EMAIL AT info@brisbanetoyambatours.com.au

CANCELLATION OUTSIDE 24 HOURS PRIOR DEPARTURE DATE OF SERVICE WILL ATTRACT A NON-REFUNDABLE FEE EQUAL TO FARE OF SERVICE PURCHASED.
Luggage Information
Carry on:
Carry-on baggage cannot exceed seven kilograms per person per adult
(this can be stored safely under your seat)
Baggage stored at the rear of the minibus:
Each piece of luggage must not weigh more than 20kg or exceed a total linear dimension (length + width + height) of 140cm, per piece. Checked baggage that exceeds a weight limit of 23kg (where applicable) will only be accepted and loaded on board at our discretion. Please note we are not catered to carry LONG surfboards and wheelchair.
Adults travelling with children:
Adults accompanying children are entitled to carry one car seat or booster seat per child irrespective of the weight. Carry-on baggage should be of a size and weight that is manageable for your child.
PLEASE NOTE Brisbane to Yamba Tours doesn't provide removable car seat you must bring your own for children passengers and please follow the criteria below:
Car Seat Acceptance Criteria
In addition to the above, car seats must meet the following criteria prior to being considered for travel:
Be designed so they can be secured with a fastened lap belt only
Not exceed a width of 40.6cm (16 inches)
Be intended to restrain the weight of a child using the device – which unless otherwise specified on the label is 9kg or less for rear-facing restraints and 18kg or less for forward
facing constraints.
Must be in good condition, showing no signs of damage
Have a single release harness that secures your child's lap belt, and torso and shoulder
straps – it cannot be unreasonably easy for children to undo
Be quick and easy to secure or remove your child
Have a solid back and seat.
If accepted for carriage, car seats must also be:
Fitted to the minibus seat by parent/guardian
Must not impede guest access to aisle or exit routes (this includes protrusion over the seat cushion edging)
Adults travelling with children will be allocated to a seat at the rear of the minibus.
FINAL MESSAGES ON REZDY:
Thank you for choosing Brisbane to Yamba tours
Please note this is your booking confirmation and your receipt of payment. Please present this booking confirmation to the driver at the time of pick up. Please arrive ten minutes prior to the scheduled departure time at your pick-up location. Please look up for our white minibus and present your receipt to the driver. You can print your receipt and booking confirmation or just save it on your phone. Now fasten your seat belt, relax and enjoy the scenery with Brisbane to Yamba Tours.